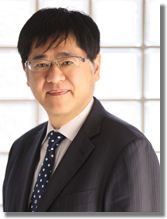 Chairman of the Japanese Society
for Inherited Metabolic Diseases
Torayuki Okuyama
(Clinical Laboratory Medicine,
National Center for Child Health and Development)
I, Torayuki Okuyama in National Center for Child Health and Development, have been selected as the new Chairman of the Japanese Society for Inherited Metabolic Diseases (JSIMD).
The JSIMD was founded in 1965 as the "Pediatric Metabolism Research Society." Past chairmen, Dr. Teruo Kitakawa, Dr., Keiya Tada, Dr. Yoshikatsu Eto, Dr. Fumio Endo, Dr. Hiroyuki Ida and Dr. Toshiyki Fukao. worked tirelessly for the development of JSIMD.
I intend to promote the clinical development of new, cutting-edge treatment methods, including gene therapy, which is presently seeing rapid progress in the world. I will predominantly focus on furthering research, aiming to develop new treatment methods that Japan can share internationally. To achieve this, it will be integral not only to train doctors and researchers who can conduct foundational and translational research, but also young doctors and researchers who can be actively involved in investigator-initiated clinical trials as leaders of the next generation.
Maintaining and expanding an excellent patient registration system is indispensable to furthering clinical research of rare conditions such as inherited metabolic diseases. The JSIMD presently employs the Japan Registration System for Metabolic and Inherited Diseases (JaSMIn), which includes data from over 1,500 patients. This registration system is also a valuable setting for communication between patients, their families, and the JSIMD. I hope to further develop JaSMIn for use as a clinical research database.
Like developing treatment methods, establishing a system for early diagnosis is another crucial task. To date, most instances of clinical diagnosis of inherited metabolic diseases have been performed as a part of research at research institutions. While this method is advantageous in that researchers are responsible for patient diagnosis and treatment, it will also be necessary to develop clinical tests for use in medical treatment in compliance with the Medical Care Act in the future.
The fundamental mission of the JSIMD is to serve patients suffering from metabolic diseases and their families through the development of new treatment and diagnosis strategies. I would like to work toward fulfilling this mission together with all of you. I sincerely hope I will have your support and partnership.